Resume

Installation and Collection List

Tour Chicago Area Public Sculptures

Margot is represented by ArtParks International.



MooreWomenArtists.org provides an exploration of the influence Margot's father, noted illustrator Franklin McMahon, has had on Margot's art.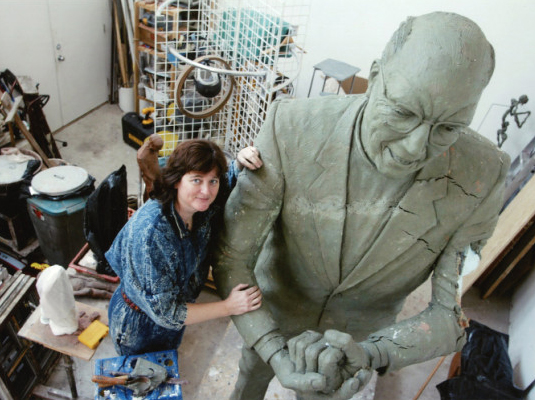 Margot McMahon
The figure and organic form interpreted in geometric rhythms are what Margot McMahon models in clay and casts in metal and concrete, welds in steel or carves in stone. Her work is a rhythm of lights and shadows playing over textured surfaces of forms which refer to the every person as the hero. She has been called the Studs Terkel of the sculpting world for her humanistic interpretations. Captured in seated poses or walking stances, her forms speak to us of both the endurance and the fragile nature of the human spirit. A lifelong environmentalist, McMahon views the human form as one with nature and creates symbols of this concept. Public sculpture commissions and museum and gallery exhibitions have been the core of Margot's work as an artist. She has exhibited her drawings and sculptures in Chicago, New York, Washington DC, Sante Fe, Cincinnati and Connecticut. The Smithsonian, The Museum of Contemporary Art, The Chicago Historical Society, the Chicago Horticultural Society and Botanic Gardens, and Yale University have her sculptures in their collections. Besides Chicago area collections her sculptures and drawings are included in private collections in New York, Florida, London, Paris, New York and Tokyo. When working on a public commission, Margot enjoys the process of 1) responding to a community; 2) researching the concepts of the sculpture; 3) intuitively interpreting the site; and 4) creating an informed and intuitive humanistic and expressive interpretation of the concept. Margot McMahon has taught sculpting and drawing at The School of the Art Institute of Chicago, DePaul University, Yale University's Norfolk Summer School and assistant taught at Yale University while earning her MFA. She has been a board member of the Oak Park Area Arts Council and a founding commissioner on the Village of Oak Park Public Art Advisory Commission and contributes on a committee of the Ragdale Foundation.

More about Margot's Life
Interpretations of human, plant and animal forms define the sculptures and drawings of Margot McMahon. She has been called the "Studs Terkel of the sculpting world" by Lincoln Park Art Initiative for her sculptural interpretations of everyday heroes. The Chicago History Museum exhibit, "Just Plain Hardworking," of which WTTW made a documentary, can now be viewed at DePaul University Center in the loop. This exhibition explores sculpted portraits of one influential generation who helped to create the multicultural fabric of Chicago and includes Black Steel Worker, a Mexican Artist, a Chinese Developer and Swedish Homemaker. Gospel Singer Delois Barret Campbell's portrait resides now in the National Portrait Gallery in D.C. Her collaborative exhibition "Sustaining the Land" interprets and applauds three families who have sustained Chicagoland's nature: prairie, farmland and Lake Michigan over generations. "Ecosystem No. 1" is a small ecosystem that invites viewers to contribute water to a solar powered pump and wind propelled vane that distribute the water onto a sedum or roof top garden. It takes the collaboration of humans, the sun and wind for the garden to flourish.
Margot recently installed "Enlighten" for the Peace Park in Lincoln Park, Chicago which joins "What are you Doing for Justice" sculpture in Lincoln Park's DePaul University campus. Margot is currently sculpting awards of recognition for the inductees as well as portraits of the first six inductees to Chicago Literary Hall of Fame.
Margot has exhibited her drawings and sculptures in New York City, Washington D.C., Santa Fe, Cincinnati and Chicago. Margot's art has been collected throughout the United States, Japan and Europe and is in the permanent collections of Yale University, the John D. and Catherine T. MacArthur Foundation, the John D. MacArthur State Park, The Museum of Contemporary Art in Chicago,
The National Portrait Gallery, the Chicago History Museum, The Chicago Botanic Garden and Soka Gakkai International. Over a period of five years, McMahon explored and interpreted her Irish Catholic heritage in the creation of art for St. Patrick's Church in Lake Forest, Illinois. The extensive commission includes work in wood, concrete, granite, stained and blown glass and a stenciled mural. When working on a public commission Margot enjoys 1) responding to the community, 2) researching and developing concepts, 3) intuitively responding to the site and 4) creating and installing an informed and intuitive expressive interpretation of the concept.
Margot is a board member of Ragdale Foundation, Yale Chicago and the Chicago Literary Hall of Fame. She is President of YaleWomen Chicago. Margot has helped to found Yale Alumni Art League, Village of Oak Park's Public Art Advisory Council and Ragdale's Cornerstone Fund. She is on the Outdoor Committee of Chicago Sculpture International where she helps guide The Chicago Tree Project in collaboration with the Chicago Park District.
Margot earned an MFA from Yale University then taught sculpture and drawing at the School of the Art Institute of Chicago, DePaul University and Yale University's Norfolk Summer School as well as Oak Park's District 97. Margot has created documentary movies to explain and share the insights she has gained from her background and explorations in art. Cinema Guild in New York City represents her videos.
Margot is represented by Art Parks International in Guernsey, UK and The Arts Club of Chicago.