2020

Twisted Fish Gallery, Elk Rapids, Michigan
East Chicago Village Hall, Indiana
Art Parks, Guernsey UK
Evanescent Gallery, Oak Park, Illinois
Reviews of the Oak Park Art League exhibition Entanglements, which included Ripple Effect, a painting by Margot McMan:

Ongoing Exhibitions

Tree Project
Chicago Sculpture International/
Chicago Park District Collaboration

Tree Project Website
Chicago Tree Project online tour
Press release
Video
Map to all of the trees
"If the trees are dying, what will happen to the birds?" asks sculptor, Margot McMahon. You can find her "Flock" and "Perch" larger than life song birds and an owl in a grand old elm on Lake Shore Drive south of 57th Street. Another artist, Nicolette Ross will etch repeating fabric patterns around a tall arching Elm trunk near the Dusable Museum. Or, Vivian Vissar, who bends trimmed branches into hanging pods, encourages quiet sanctuaries for insects, birds and people's imaginations in tree in Armour Park. Taylor Wallace will be carving a large tree in McGuane Park into upward twisting spirals. The Johnsons will carve a SOS Morse Code pattern across a barkless trunk. These artists want to draw attention to the trees and the gifts they offer in Chicago Sculpture International's "Tree Project.". That these sculptures are in trees draws attention to the fact that these trees are dying and pays tribute to their decades or centuries old life. Jane Goodall states, "When I put my hands on a thousand year old tree and sense the sap flowing, it brings me to wonder about all this tree has seen in its lifetime."
If so many stressed trees are dying due to climate change, how can we maintain the ecosystem of these trees in our city's parks? Insects, nesting birds , and burrowing squirrels need the decaying trees to find safe haven. Migrating birds need a safe harbor to feed and rest along the Lake Michigan flyway. If the trees are taken down, there are less insects to feed from, less branches for rest and more wind to navigate. Climate change and invasive species have brought to our park's trees the ash borer, Dutch Elm Disease, drought flooding, and erratic temperature
Margot McMahon, Outdoor Committee Co-chair of Chicago Sculpture International, has embraced this Tree Project as it bridges her being both a life long environmentalist and sculptor. "I hope for my flying song birds and owl, in an elm overhanging Lake Shore drive, to be a reminder every day to reduce our carbon footprint and give the earth a chance to heal. The wood I am carving for the Tree Project is from a 283 year old Maple blown over in hurricane force winds off Lake Michigan in 2011. In almost 300 years that tree had not met so fierce a wind. By carving birds from the ravaged tree, the sculptures perpetuates it's vitality. These carved birds placed in a dead tree emphasizes the loss, reminds us to reduce our carbon emissions to help reverse global climate change."
"Flock"
Chicago Sculpture International
Chicago Park District, City of Chicago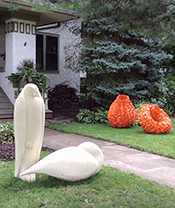 Terrain Bike Tour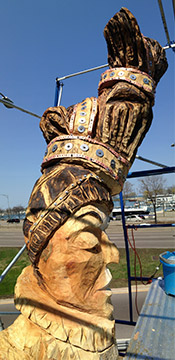 Checkmate Queen and Knight
Page Top
The sculpture "Enlighten" symbolizes the 50 year passionate effort for Enlighten that have been the hallmark of Soka Gakkai International (SGI) in promoting racial equality.
The sculpture responds to an incident observed by Daisaku Ikeda fifty years ago when an African American child was denied the opportunity to play ball with white children in Lincoln Park. The boys who posed for this sculpture are African American and Caucasian, who live and play together on one block and attend school together. They have grown up knowing a more peaceful and just world in no small part due to the efforts to promote justice by SGI.
The bud of the lotus blossom, a symbol of enlightenment in Buddhist thought, can be found throughout the sculpture in repeated forms that become the image of these boys and in open space between their torsos. I used the form of the lotus bud in the calves and thighs and the incised lines on the ball or in full blossom reference in a boy's hair. The lotus bud promises the blossom of this effort and these two boys lives now beginning at age seven with playing together. The sculpture "Enlighten" is a marker on the 'history of the justice timeline' for how far we have come in these 50 years promoting racial equality. The reminder that our work is not done is represented by their budding youth as we imagine what their lives will become with this as their beginning.
Peace Garden
Lincoln Park Buena and Lake Shore Drive
Chicago, Illinois

Map
Enlighten



St. Patrick Church
991 S. Waukegan Road
Lake Forest, Illinois

On March 22, 1998 at the 11:30 Mass Cardinal George dedicated the newly constructed St. Patrick Church. Hands have been a part of my artwork for a long time and became the main statement in the works I am creating for the new St. Patrick Church. A sculpture of six foot high hands formed in clay and cast in Fondu concrete hold the tabernacle which is the color of the earth in Lake Forest. These hands are offering gifts. In the fourteen Fondu stations, Jesus takes up his burden and bears it—the Cross. Hands are prominent in each station to give insight into what he is experiencing in the Way of the Cross: In the Holy Family sculpture which is now taking form adolescent Jesus looks into the palms of his hands as if he knows his future. He is encouraged with his father's supportive hand on the shoulder and strengthened by his mother and fathers combined hand symbolizing their spirit. Also I designed the St. Patrick's Celtic Cross which combines the symbolic knotted pattern from the Kells Bible and a Celtic Cross carved in Oak. For three years Margot has explored and interpreted her Irish Catholic cultural heritage while creating artwork for the newly constructed St. Patrick Church in Lake Forest, Illinois. Large scale sculptures include a twice life size Holy Family with Jesus as an adolescent entering his life's work, a granite water fall Font, a six foot set of hands Offering the loaf shaped Tabernacle, a stenciled mural based on the Breastplate of St. Patrick, a stain glass Ambry, a Celtic Cross and a Creche scene, and 14 Stations of the Cross.